Explore Features
Get acquainted with Digication features and functionality.
Design & Customize
It's your work. You can choose how it's presented.
Customizable Templates
Customizable Templates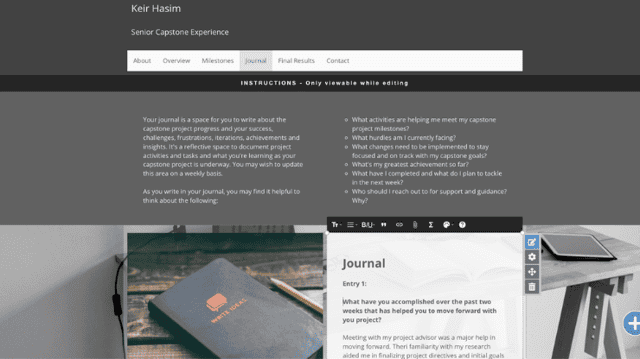 Digication Supports Media-Rich Customization of ePortfolios
Design visually compelling ePortfolios with ease. Create from scratch or select from a library of templates with prebuilt layouts to begin sharing your work, ideas, goals, and reflections.
Add one or more pages to build connections between your work and learning experiences using an extensive range of file formats, text editing tools, hyperlinks, images, video, audio, and hundreds of supported embeddable media formats like YouTube, Instagram and SoundCloud.
Resize and move elements with a simple drag-and-drop. Choose font styles, colors, images, and more to personalize the display and engage your viewers
Design & Layout Tools
Design & Layout Tools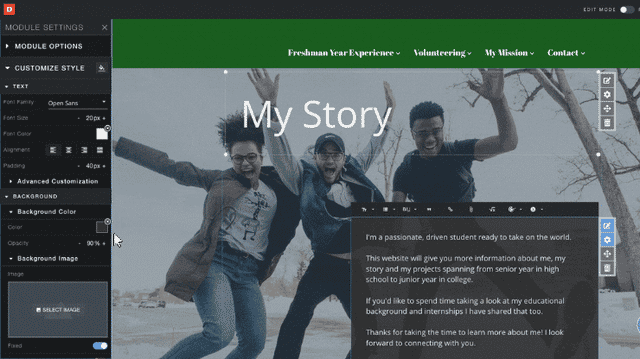 Design tools that make you look like a pro
Digication's intuitive design features can help make your work look outstanding in no time.
Choose the photos, fonts, and colors you love and tell your story. Copy and move content or sections easily from one work to another, using previously designed layouts and uploaded content to create as many displays of your work as needed knowing they'll be responsive across different devices and screen sizes.
The best part is knowing teachers, advisors, and classmates you share your work with can easily see your progress and give you feedback and ideas as you're designing.
Mobile Access & Editing
Mobile Access & Editing
Digication Is Made for Mobile
Showcase your work with a responsive design that seamlessly adjusts to desktop and mobile devices.
Experience the convenience of mobile browser access, allowing you to share your work, learning, and reflections on the go. Enjoy real-time content creation by capturing images, videos, and audio directly on your work pages. Benefit from powerful and flexible design features at your fingertips.
Experience the convenience of this no-coding needed tool, offering nearly the same features on mobile as on its desktop version. Capture recordings effortlessly on Android phones, iPhones, or tablets, and easily switch across devices using a variety of organizing and reflection-driven features.
Capture ideas, experiences, reactions, and discoveries you wish to share easily and quickly.
Display Files & Media
You create work in all kinds of formats. Now you can display them all.
Documents & PDFs
Embedded Files
Images & Galleries
Google Drive Integration
File Archive
Publish & Share
You own your work. You decide when to publish it and control who you share it with.
Edit & Published Version
Permissions & Share Options
Collaborate with Multiple Editors
School-wide Directory
Submit to Assignments
Accessibility
Leading EdTech in accessibility beyond compliance.
WCAG 2.0 & Section 508
Semantics & Structure
Screen Reader Shortcuts
Create Accessible Media
Create Accessible Text
Equal Access to All Features